Meet Our Customers: Eres, Sheldon and Shashkin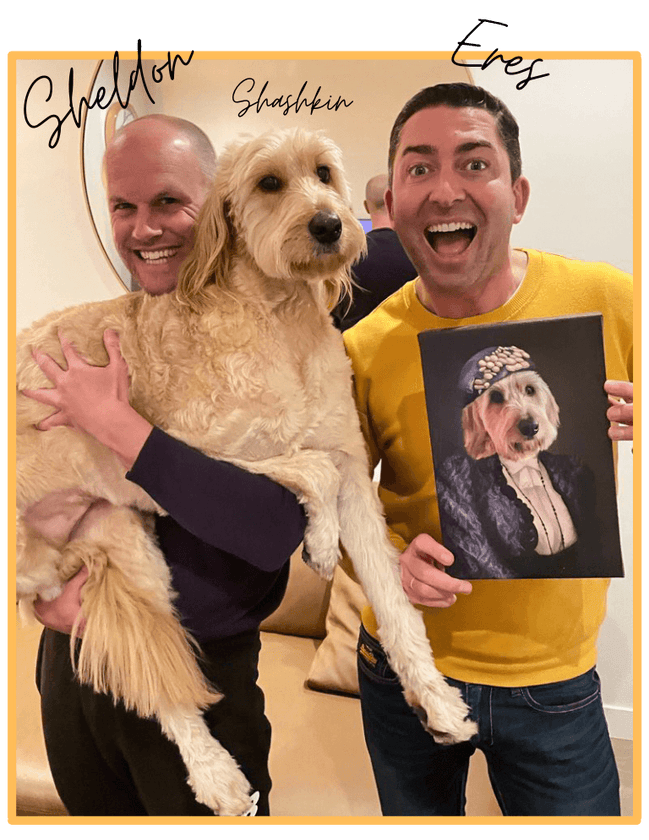 Dear NextGenPaws Family!
We are very excited to bring you our new series:
'Interview With Our Customers' 
This month's guests are Eres, Sheldon and their cheeky groodle Shashkin!
What is your dog's name?
Shashkin
How did you come up with the name? Does it have any specific significance? 
It means goofy in Turkish. When we visited to meet the pups, all the dogs ran to the fence to get to us and Shashkin was the last one at the back jumping up and falling over everyone and everything... Shashkin is also the name of the suburb we lived in in Istanbul when we were living overseas. :)
How old is your dog?
Turning 4 very very soon, but she still has her awkward puppy character which we hope will never end. :)
What breed is your dog? And why did you choose this breed?
Groodle. Shashkin is polite, sensitive, and a real character. We were after the characteristics of a golden retriever but a version that doesn't shed as much hair.
What is your dog's favourite food? 
A whole carrot. She eats it like Bugs Bunny.
What is your favourite thing to do together?
Playing tug of war and chasing in the park together. After park play, she loves laying down in the grass refusing to move as she catches her breath... I lay with her and we both rest. 
What is a bad habit that your dog has?
Getting extremely excited when people come to our home. Jumping up and down on them and talking to them. She gets herself so worked up she has to drink a whole bowl of water after. 
What is the funniest memory involving your pet?
When we came home from work and she had had the best day ripping apart all the books from the library. We will never forget that face and the destruction. 
What is the hardest thing about being a dog owner?
Being away from her if we go on holidays and have someone house sit with her. 
What is your dog's favourite food? 
A whole carrot. She eats it like Bugs Bunny.
Does your dog have a nickname? What? why?
We shorten her name - Shash, Shashy, Shashk.
Have you ever taught your dog any tricks? If so, what?
Our favourite is she won't come into the bedroom until 6.45am every morning and then she will sit and look at us sleeping until we wake up and give permission for her to come up on the bed for morning snuggles. 
Which NextGenPaws portrait did you choose for your dog? Why?
We chose a character that was as regal as Shashkin's royal character. Shashkin sits with her chest out and head raised like you are speaking to the queen. She is an elegant lady, a true madam. 
Where is your canvas now?
It is a wonderful compliment in our study. 
How would you describe the portrait with one word?
Madam Shashkin.
Want to be our next feature?
Email us!
marketing@nextgenpaws.com.au
💕 The Team at NextGenPaws