21 Thoughtful Gifts for Someone Whose Dog Died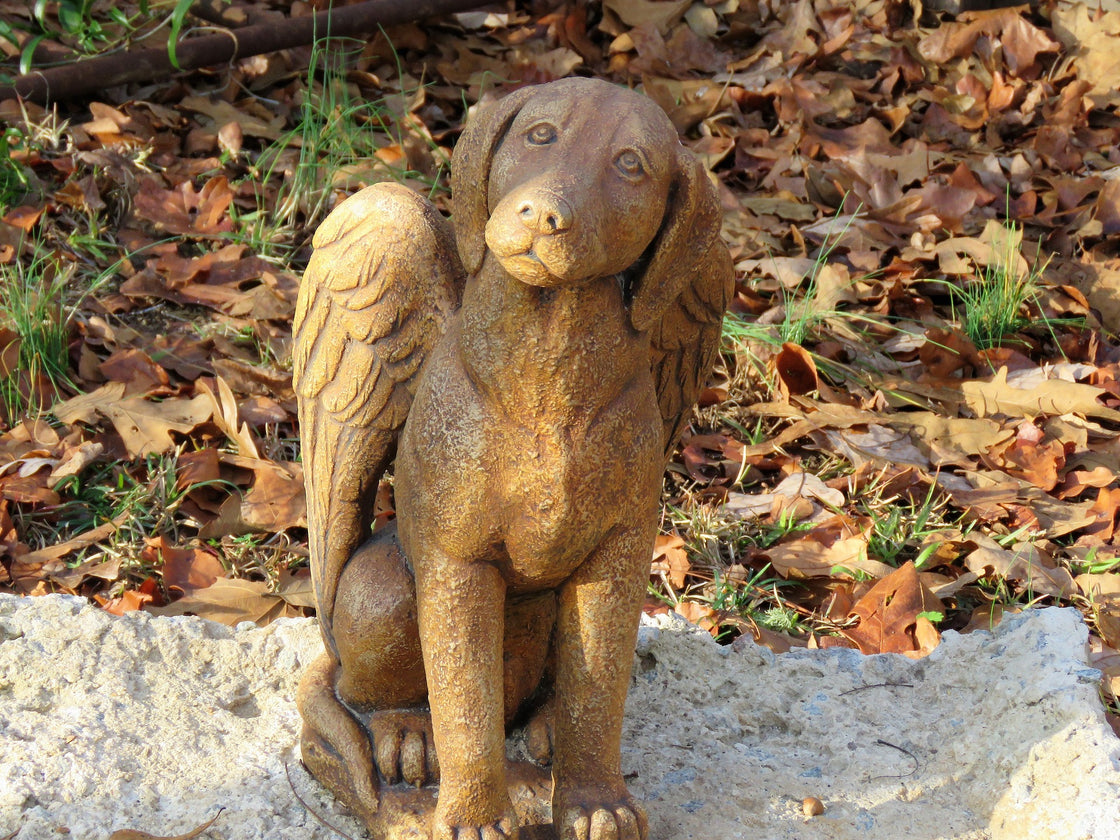 As it is with the loss of a loved one, the death of a pet can be devastating. Pets come into our lives and leave their paw prints, so it can be quite traumatic for friends when their pets pass on across the rainbow bridge. So, if you have ever wondered what to get someone whose dog died - search no further, we have prepared this list specifically for you. In this post, you will 21 thoughtful gifts to get someone whose dog died. 
Thinking of 
what to get someone whose dog died
? - Our Top Picks 
1. Get a Customised Necklace  
Deciding on what to buy for a friend whose dog died can be a bit challenging, but you don't need to get anything too fancy, A memorial necklace is a great place to start. You could personalize the necklace by writing the dog's name on it. Or, you can attach a pendant having a picture of the deceased dog. This way, the dog owner can take their dear companion wherever they go.  
2. A Personalised Stone
Pets own a special place in our hearts, especially those that have been lifelong companions. You can get a memorial stone for a friend whose dog died. The memorial stone could be placed outdoors in a garden or used indoors as an ornament. To give the stone a personal touch, the dog's name can be engraved on the stone. Or, any other thoughtful write-up could be carved on it. 
3. Design a Wish Bracelet 
Whenever we think of what to get someone whose dog died, we usually think far and wide. But, you can easily send out positive energy by giving your friend a wish bracelet. With wish bracelets, you send out comforting wishes to help your friend go through the heartbreaking realization of losing their favorite companion.  
4. Get a Memorial Wind Chime  
Another thoughtful item on our list of 'what to get your friend whose dog died' is simply a wind chime. Though they are usually used for aesthetics purposes, wind chimes are believed to purify and enhance the energy within a certain area. So, you can have your friend feeling safe and protected by giving a memorial chime as a gift when a pet dies.  
5. Get a Personalised Poem Print 
With poems, we can give life to experiences and moments that we treasure.  Preparing a custom poem print for a friend who lost their dog can help keep memories alive. You can attach an image of the dog to the print alongside a comforting poem.  
6. Craft a Memory Box 
A memory box is one of the most thoughtful gifts to get someone whose dog died. A memory box can store pictures, toys, and other items associated with the lost pet. The items in the box can help your friend remember happy moments shared with their life-long companion and offer some comfort.  
7. Memorial Bottle Opener  
It may not seem like much, but bottle openers come in handy when we need drinks in happy moments or sad moments. In any case, it's comforting to know that a memorial opener of their lost pet will be there in both cases.  
8. Design a Scrapbook 
Who says the memories of life-long companions should disappear when they die? With scrapbooks, you can help a friend who lost a dear companion preserve beautiful memories for future generations.  
9. Customized Wooden Puzzle Pieces  
It's easy to run out of options when we try to figure out what to bring someone whose dog died. At first, a puzzle might not strike as a thoughtful option, but do you know what's better? Putting pieces of a customized puzzle together. Personalize the pieces with an image of your friend's pet, so the puzzle becomes putting the image in the right shape. You can imagine the nostalgia and smile that will be lit your friend's face every time they put the puzzle together. 
10. Send a Message in a Bottle 
A message in a bottle is a unique gift idea for many occasions. Also, it could be the perfect gift to get your friend whose dog died. You can personalize the gift for the occasion by choosing a heartfelt message in memory of your friend's deceased pet. For inspiration, you can borrow a song's lyrics or a line from a poem that evokes comfort. 
11. Custom-made Ornament 
The loss of a dog is a sad moment for a family. You can help a friend commemorate this loss of a beloved furry family member with a customized ornament they can hang on their Christmas tree or at any symbolic location. A paw-shaped ornament with a portrait of your friend's dog is a beautiful design. 
12. Memorial Bracelet  
No need to stress about what to gift someone whose dog died.  A handcrafted memorial bracelet is a perfect way to keep our beloved pets close to our hearts. You can purchase this brilliant gift for someone when their dog dies. Most gift shops offer customization services, so you can engrave the name of your friend's pet and even a quick heartfelt message on the gem. 
 13. Custom  Photo Collage  
Use a collage to highlight your friend's favorite memories with their deceased pet in a single unique print. This gift will help your friend reminisce about their fondest moments together with their beloved buddy while they grieve. You can include the name of the pet in the upper photo frame, and the dates of birth and death on the lower frame. 
 14. Design a Personalised Book  
Thinking of what to get someone whose dog died just got easier. This is one of those adorable gifts that should be at the top of your thoughts when considering what to bring someone whose dog died. There is something special about creating a story out of memories one can flip through. Include photos of special moments and unique illustrations, together with personalized quotes that reflect the captured memories. 
If your friend who lost a dog loves a good coffee, then a personalized mug is the ideal gift. Having the picture of their beloved furry friend accompany them with every sip will surely brighten their days. 
16. Customized Candles  
Lighting a candle can bring serenity and comfort. So, if you're still unsure about what to give someone whose dog died, a customized candle might be all you need. The aura of the glow can equally have a therapeutic effect. This could be all your friend who lost a dog needs, so don't underestimate this gift when considering what to give someone whose dog died. Select a candle with a soothing fragrance and attach a picture of your friend's pet on the candle vessel. 
17. Memorial Tray  
A memorial tray embossed with a paw print or an image of your friend's beloved dog is a great gift after the loss of a dog. It could be a tray to hold jewelry on the dresser or a boot tray for their porch or mudroom.
Our pets are never with us for long enough. Personalized blankets are warmth-evoking keepsakes. Sending one as a gift for a friend who lost his dog with a picture of the pet imprinted on it will evoke a feeling of togetherness each time your friend uses the blanket.  
19. A Memorial Basket  
Losing our pets can be a traumatic experience. Sending a memorial basket gift to a friend whose dog recently died is a great way to express your sympathy. You can buy a pre-made basket. But if the items it contains do not sit right with you, you can purchase them separately. Your local gift shop may be willing to package the basket for you. 
 20. Custom-Made Memorial Quote  
Memorial quotes usually go together with other gift items like customized picture books, frames, blankets, jewelry, and a lot more. Choose a pleasant quote that reminds your friend of the good old days and make them look forward to meeting their furry loved ones across the Rainbow Bridge in the very distant future. 
21. Get a Bottle Lamp  
A LED bottle lamp customized with the picture of your friend's deceased dog is a special gift to journey through a grieving period. It evokes heartfelt emotions and can create a warm sheen in the study room, bedroom, wherever special they are kept. 
Conclusion
If you're thinking of what to get your friend whose dog died, then any of the gifts listed in this post will do just fine. You can equally mix things up and come up with a creative hybrid. Always remember that the best gift is one in which you put in a lot of thought.