15 Best Gift Ideas for Dog Groomers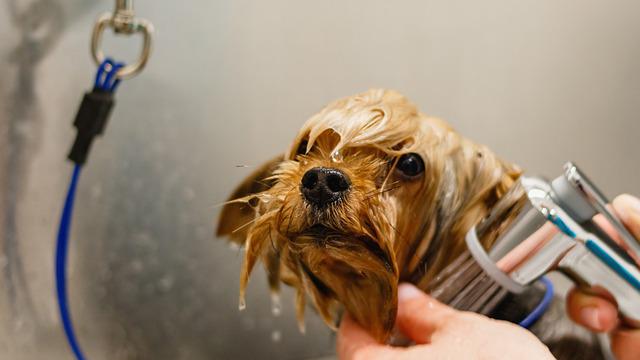 It's hard to envy the role of a dog groomer. Their task is hardly pleasant – they face the noisiest, wiggly, and stubborn dogs possible. Only their passion for their job keeps them going. Appreciating them for the love they show to our furry friends will go the distance in encouraging your dog groomers. We have compiled the 15 best dog groomer gifts you can find.
Tell your dog groomer what you think about them with this handmade MDF ceramic ornament. This Christmas gift for a dog groomer is fully customizable. You can add names, dates, and other information when placing an order. This ornament will certainly adorn their Christmas trees for years to come reminding them that they are a cut above the rest.
Nothing wows groomers more than a gift highlighting their love for our beloved canine. Few presents for dog groomers fill this role perfectly as a human and dog pet poster. This minimalist custom pet portrait perfectly embodies the saying "less is more." This art portrait will add a touch of beauty to the walls of any saloon or home.
If you are an adult dog lover, it is hard to say no to this book filled with fun activities. Written for adult dog lovers, this book contains lots of fun activities you can do on your own and with your four-legged friend. In it are crosswords, trivia, matching, and many physical activities for an adrenaline rush.
Coffee mugs are an excellent gift for dog groomers. You can purchase a mug with a funny ode to the staple products used by dog groomers. A great alternative is to buy a mug with a custom portrait of your groomer's pet. You can even add the pet's name or make additional personalization requests.
Aprons are an absolute necessity in every dog grooming saloon. It helps keep off loose fur that easily sticks to clothing. Gift your pet groomer an apron with a custom print, or select from tons of creative designs if you are bereft of ideas. Thanks to their utility and innovative design, grooming aprons are the best dog groomer gifts. Your dog will love it too.
If you are looking for dog groomer gifts that balance utility and fun, then hoodies are an excellent choice. You can personalize these dog groomer hoodies with messages that your recipient will love. You can choose wordplay, funny sayings, or jokes about dog groomers. The default message "best mother fluffin' dog groomer ever" is also a smile-bringer.
Keychains are also great gift ideas for dog groomers. More so when they contain a funny message like "dog hair is my glitter." As a groomer, having dog hair everywhere is part of the job. Try as you may, getting rid of the hair is impossible. These keychains will help your fave dog groomer believe that his keychain is glitter. After all, there are similarities. They stick to everything, are tough to remove, and we love and hate them simultaneously. This makes this keychain the perfect gift for your dog-loving friend.
Customized shirts make good gifts for dog groomers with a passion for their craft. They can wear it to work or show off on off-duty days. Regardless, they will always bring a smile to your dog's barber. These tees style perfectly with a pair of jeans, chinos, or leggings. They are also a perfect way to tell prospects what you do for a living. You never know where the next client may be.
Home or saloon, a welcome mat is a great fit. A must-see by all visitors and easily customizable, they are one of the best dog grooming client gifts you can buy. You can customize the message on the mat to something perfect for the recipient. Use this mat to entertain friends, clients, and guests.
In the dog saloon, the groomer is the captain. No pet pillow is as befitting a dog groomer gift as The Captain custom pet pillow by Next Gen Paws. You can personalize these pillows with images of the universe's most dedicated, loyal, and loving captain.  
The best groomer gift ideas are both valuable and fun. Tailcoat hooks are no exception. Every business needs coat hooks to serve employees and clients. A dog grooming salon deserves befitting tailcoat hooks, and these cuties are nothing short of perfect! These tail-wagging hooks will take a prominent position in every dog saloon, igniting conversations.
Phone cases are a great way to remind your groomer friends of their bond with dogs. This watercolor pet portrait phone case makes great dog groomer gifts. Send a digital picture of your groomer's pet and let the artists perform the magic. Artwork is printed on a snap case suitable for most iPhones and Samsung mobile devices.  
Plants help brighten up homes and businesses. In busy locations like dog saloons, succulents serve as the best plants because they do not need to be watered often. These dog flowerpots will host stunning succulents that bring smiles to the face of clients.
Soft, warm, and personalized, this season of joy blanket is the best Christmas present for a dog groomer. Your dog-loving friend can drape the bed, home or office couch, dogs, or themselves in a piece of fluffy material designed for the season. Buyers have the option of three different sizes: 30"x40", 50"x60" and 60"x80".
If you are unsure about the best dog groomer gifts for your buddy, gift a gift card. A gift card to get a personalized pet portrait from Next Gen Paws will let your friend choose a gift that resonates best. Spare yourself the uncertainty of picking out the ideal gift by allowing your dog's groomer to decide.